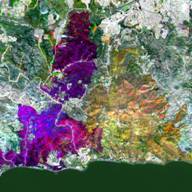 Vegetation Disturbance
Drought and wildfire can have lasting impacts on vegetation in the Western US. We are using hyperspectral and multispectral time series data to examine how different plant species are impacted by drought and how vegetation recovers in response to the combined pressures of wildfire and warming climate.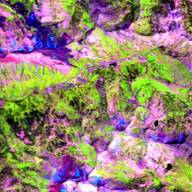 Mapping vegetation species
Hyperspectral remote sensing has the ability to map vegetation at the species level. We are investigating new techniques for mapping vegetation species and functional types at multiple locations across the Western U.S. The lab is involved in multiple larger hyperspectral remote sensing efforts, including AVIRIS, HyspIRI and EcoSIS.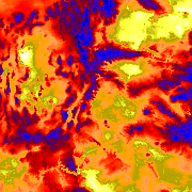 Wildfire and climate
Increasing drought in the Western US has coincided with increased fire activity. Precipitation affects both fire danger and recovery of vegetation following fire. We are using time series remote sensing to examine links between climate and wildfire, including antecedent climate conditions in the months prior to large wildfires. We are also investigating how climate immediately following fires can impact recovery trajectories as measured using time series multispectral remote sensing.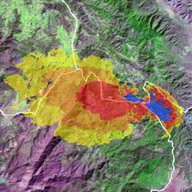 Fire safety
We are using combinations of lidar remote sensing and geospatial modeling to map safety zones for firefighters. Safety zones serve to protect firefighters from dangerous heat exposure, hopefully reducing firefighter injuries and fatalities. We are also using geospatial modeling to find evacuation triggers for fires threatening the wildland urban interface (WUI).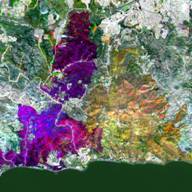 Fuels and fire danger
The moisture, type, and amount of fuels have a big impact on wildfire behavior. We are developing applications of time series multispectral data and hyperspectral data for mapping fuel type, fuel moisture, and fuel condition. Our current efforts are focused on mapping fuel properties in the Western U.S., including Utah and California.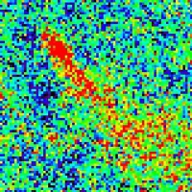 Trace gas detection and concentration retrieval
Carbon dioxide and methane are gases that occur at low concentrations within the atmosphere and have substantial impacts on Earth's climate. We are investigating the use of imaging spectrometer data for mapping trace gas plumes and retrieving column concentrations.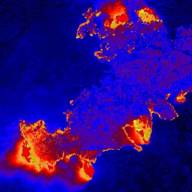 Measuring Fire Properties
Fire mapping typically uses thermal infrared wavelengths, while fuels mapping typically uses visible and near infrared wavelengths. Hyperspectral data span the visible, near infrared, and shortwave infrared, and contain information on both fuels and fire. We are developing methods for mapping fire properties from hyperspectral data.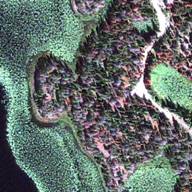 Mapping Bark Beetle Kill in Lodgepole Pine
A massive mountain pine beetle outbreak is occurring throughout the Rocky Mountains, killing millions of lodgepole pines. After the trees have died, their needles turn red. We are testing the use of high resolution satellite data for mapping areas of beetle-killed lodgepole pine.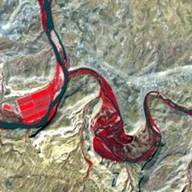 Monitoring Tamarisk Defoliation
The invasive tree tamarisk has had considerable impacts on riparian habitat in the Southwestern US. The release of the northern tamarisk beetle (Diorhabda carinulata) has resulted in defoliation of tamarisk along the Colorado and Green Rivers in Utah. We are using remote sensing data to map and monitor tamarisk defoliation in southeastern Utah.