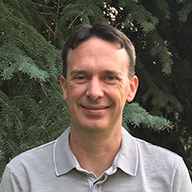 Education
Ph.D., Geography, University of California Santa Barbara, 2003
M.A., Geography, University of California Santa Barbara, 1999
B.S., Geography, Penn State University, 1997
Courses
GEOG 1100 - Exploring the World Through Google Earth
GEOG 3110 - The Earth from Space: Remote Sensing of the Environment
GEOG 5110/6110 - Environmental Analysis through Remote Sensing
GEOG 5120/6120 - Advanced Optical Remote Sensing
GEOG 6445 - Remote Sensing of Vegetation
A full list of remote sensing courses taught in the Department of Geography can be found under Courses.
Research Interests
My research interests include remote sensing of vegetation, imaging spectroscopy, wildfire and firefighter safety, mapping greenhouse gas emissions, and natural hazards. Please see Projects to learn more about ongoing research in the URSA Lab and Papers to see what we've recently published.